THE MASQUERADE BALL
... is almost here, @everyone!
T
he gates to Guild Hall's Tavern has been closed as the personnel starts grand preparations for this exclusive once-in-a-year event!
A
s promised we have another dose of surprises to reveal today, but there will be more of them during the Ball itself!
1) First surprise of the day is:
the Masquerade Ball will take place on...
Y
eah, yeah, I knooow...
"Sometime at the end of October"
, ha?
Well, we've tricked you!!1!! Ok, ok... it was suppose to be on October 28, but
Horrorween
, which is happening on that day, is way too good to miss it and we can't move the event to day after it neither, cause lots of you confirmed that you'll be partying in real life cause Halloween, sooooo...! Now you have more time to invite your date! \o/
DATE?
Y
ou heard well!
2) Second surprise of the day is:
during the Ball, next to other exciting activities and secret announcements, we'll also host various funny social games - some of which will require cooperation with your partner! Therefore it's expected that you'll come with chosen by you person, who accepted your invitation or with someone who invited you!
...
but... date?
P
artner in crime! A friend. Someone, who will accompany you during the Ball... someone, who hasn't been invited yet and is your last resort in avoiding social humiliation. I MEAN...! A friend. Gender or sexual preferences doesn't matter! Late during the party we'll also be choosing the Queen and King (or Queen and Queen, or King and King) of the Ball! One pair will be chosen as the coolest pair of the night!
It's ok to invite someone that isn't in the guild yet, but we encourage to invite each other, as this event in huge extend is about bonding [Home] members. If you'll choose to bring outsider, do your best to convince that person to stay with us! You have necessary permission to invite your friends to the guild, so go for it if you know that your friend can be trusted and won't break our rules
.... of course we'll also let you in to the Ball if you'll come alone, but you know... we might struggle with finding you a partner to some games, which will require such partner, and you know... eternal humiliation. No pressure.
3) Third surprise of the day is:
the famous and scary
@Evil Queeny Regina
herself will draw a winner of the Evil Lottery and stream it live during the Ball. Make sure that your name is in the spreadsheet and check if you appear correct number of times - to help you with this task: list of names is currently available to view in A-Z order, but remember: it will be openly shuffled on the day of the Ball right before the winning number will be randomly generated (also during the live stream). The main prize for the lottery today is exactly 209 gold and 90 silver, but it keeps growing as participants buy more tickets! Every participant of The Evil Lottery will also receive
a participation-gift worth at least 1 gold (prize of one ticket for the lottery) in a mail before the day of The Masquerade Ball, which will include an exclusive invitation to the Ball
. If somehow you missed it - details about lottery are here:
Evil Lottery
4) Fourth surprise of the day is:
you can already grab your chance of winning extremely sexy prizes for "Quaggan Bob The Lost Brother" event! Turns out Bob already came Home, but since he has ADHD he lost a lot of selfies that he took on his way back. That means there will be no 22 pictures as he promised, but only 13! Each of those 13 pictures are now here:
Quaggan Bob The Lost Brother
. All it takes to win such things like
Permanent Avatar of Death Finisher
or expensive dyes and minis is to locate places showed in the pictures and send names of the closest to them points of interests or waypoints to
@ZivaLuna
privately on Discord. First few senders will be announced as winners during The Masquerade Ball!
5) Fifth surprise of the day is:
rumors about secret enterence to Tavern are speaking of truth! There is a very tricky way to get inside and of course it doesn't require asking Joanna to give you back permissions to decorate guild hall, so you could delete the gate. You might need some masteries for this trick, but hey! Good things comes to those who work hard! First person to discover the way inside and who will prove it by taking a screenshot there will recieve a symbolic 10 gold, but of course beating the game is clearly the most desirable reward for this competition as we could see on the first day when the gate has been closed (lots of people trying to find the way)! ... and of course you'll be able to get those guild buffs that you badly need! So good luck with this secret. On a sidenote: please, if you'll manage to figure it out before The Masquerade Ball, do NOT show to others how to get there. Instead let's have together a fun secret reveal at the start of the Masquerade Ball. Same goes for your screenshot itself - avoid showing to people the way inside or how the Tavern looks like by screenshots, pretty please with a cherry on top. Just send your screen to @JoannaBanana and don't show off the way.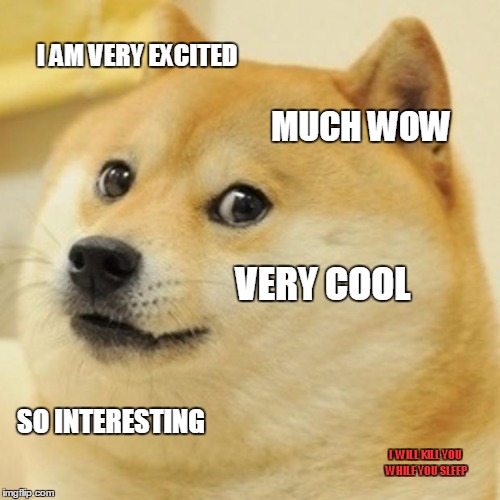 6) Finally the most exciting sixth surprise of the day is:
after days of hard work, our amazing, skillful videos editor - also known as
@Tharen
- finished one of secret projects that we planned for a while! This is that moment when shit hits the fan when you watch the HYPE promotion video of The Masquerade Ball!!! \o/ You're welcome!
PS Tharen is working on The Flameseeker Prophecies, but obviously this project took quite some of his time away, while he could be farming instead. He'll gladly accept any donation that you can make! What you're about to see is definitely worth some coins.
See you there! Gathering starts at 18:30 CET

Get your outfits ready! HHHYPE!